First International Workshop on the Pre-Heaven Power Method
Submitted by chrisfreel on Fri, 2010-03-05 11:40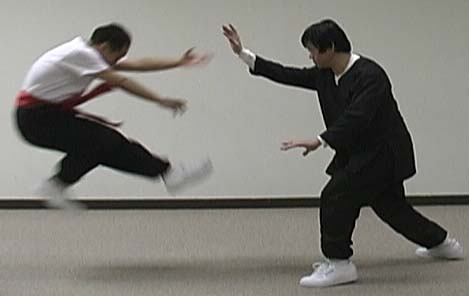 Date
October 23-24, 2010
Location
Chinese Taoist Martial Arts Association
5039 Oakton Street
Skokie, Illinois 60077
U.S.A.
Purpose
The purpose of this first workshop is to ground participants in the fundamentals for developing internal power through use of the Pre-Heaven Power Method. Specifically, the workshop will cover the materials described in the Assistant Instructor section of the Curriculum. While participants obviously cannot master all the material presented in a single weekend, it is nevertheless expected that participants will be able to both learn the fundamentals of the system and to understand how to develop their skills further. Moreover, since the method is not tied to any particular style, participants should be able to walk away with knowledge about how to use the methods they have learned to enhance the results of their own training.
Since the organization is currently young, attendees will also have many opportunities to play key roles within the organization.
Instructors
Chief Instructor: Wei-Chung Lin
Associate Instructors: Stephen Doyle, Andre Zielinski, Chris Freel, Andrey Korchagin, Lewis Rivera, John Ryan
Assistant Instructors: Robert Patelski, Daniel Polotsky
Agenda
Saturday, October 23:
8:30 - 9:30 am Registration

9:40 - 10:20 am Introduction to the Pre-Heaven Power Method
10:30 am - noon Session I
Six stretching methods, Transmission of energy with curved back, Wrapping the hips exercise, The Swallow Flipping Standing Stake, The concept of the imaginary back wall, Lifting the Sky Standing Stake
noon - 2:00 pm Lunch break
2:00 - 3:30 pm Session II
Reviewing transmission of energy, Testing of Lifting the Sky Standing Stake: (1) Emphasize circling and (2) Emphasize transmission of energy, Taming the Earth Standing Stake (vertical circles) and its testing: (1) Emphasize circling and (2) Emphasize transmission of energy, Fajin testing based on Taming the Earth: Stage I Fixed step with structure to rebound only
3:45 - 5:15 pm Session III
Fajin testing based on Taming the Earth: Stage I Fixed step with structure to rebound only and Moving step
6:00 - 7:30 pm Dinner at a Chinese restaurant
8:00 - 9:30 pm Session IV
Guided practice - time available to work on whatever areas you feel you'd like to, with the assistance of an instructor to help with details, explanations, etc.
Sunday, October 24:
9:00 - 10:30 am Session V
Six stretching methods group practice, Review of transmission of energy, Review of the two standing stakes, Fajin testing based on Taming the Earth: Stage I Fixed step with structure to rebound only and Moving step
10:45 - noon Session VI
Continuation of Session IV and Splitting fist
2:00 - 3:30 pm Session VII
Smashing fist (moving step), Splitting fist, fajin testing of Taming the Earth standing stake
3:45 - 4:45 pm Session VIII
Demonstration of the Pre-Heaven Power Method not covered in this workshop, Discussion of formation of local practice groups
5:00 - 6:30 pm Session IX (optional)
Guided practice
Certification
Attendees of the seminar will receive a Trainee Assistant certificate after completing the two-day program. This certificate will be a prerequisite for promotion to Assistant Instructor in a future workshop.
Pricing & Registration
Premium Members

Regular Members

2 Days

1 Day

2 Days

1 Day

Register Before October 18

$340

$190

$400

$220

Register After October 18

$360

$210

$420

$240
You can sign up for the workshop here.
Also note that instructors or others who register 5 or more people for the workshop can attend for free. Details are available upon request by workshop-info@americanyzy.com.
You can also sign up at the Chinese Taoist Martial Arts Association (5039 Oakton St., Skokie, IL 60076) during its class hours (Monday through Friday 6:40 pm to 9:30 pm and Saturday 1:40 pm to 4:30 pm) and pay with check or cash for the workshop.
What to Bring
Please bring comfortable, loose-fitting clothes and a separate pair of sneakers that have not been worn outside. The training area is covered with a tough carpet (berber style) which is not friendly to bare feet or socks.
Travel information
Getting there by car:
Take I-94 to exit 37B (Dempster Rd, heading East). Take a right onto Niles Center Rd, then turn left onto Oakton St. The school is located on the right side of the street, about 1/2 a block down.
Getting there by air:
Fly into O'Hare Airport if possible; it's much closer than Midway Airport. If you're renting a car, see the directions for getting there by car. If you'd prefer not to, it's a short taxi ride. Cabs can be picked up outside all the baggage claim areas at designated taxi stands.
If you need a return ride to the airport:
303 Taxi - 847-303-0303
American Taxi - 847-255-9600
Getting there by public transit:
The #97 CTA Bus stops right at the school, and connects with the Skokie Yellow Line train and the Howard Red/Purple line train stop. The fare is $2.25/ride, with $.025 transfers within 2 hours. A fare transit card must be purchased for train rides; cash is accepted in addition for bus rides.
Hotels:
Holiday Inn Chicago North Shore
5300 Touhy Avenue
Skokie, IL 60077
(847) 679-8900
Howard Johnson-Skokie
9333 Skokie Boulevard
Skokie, IL 60077-1310
(847) 626-0170
Wyndham International
6954 North Lehigh Avenue
Chicago, IL 60646-1349
(773) 792-5104
Restaurants:
China Town Express
6121 Dempster Street
Morton Grove, IL 60053-2953
(847) 967-8822
chinatownmg.com
Tub Tim Thai Restaurant
4927 Oakton Street
Skokie, IL 60077
(847) 675-8424
There is also a Subway next door to the school.
Chicago tourism information and points of interest:
http://www.explorechicago.org/city/en.html
For more information, please contact the organization at: (847)-673-9855, or workshop-info@americanyzy.com
This workshop announcement has also been posted on http://www.martialartsevents.com/